What makes up a course in Humanagement?
Various articles put together make up a course in Humanagement. To be able to set up a course easily, you have to make sure the articles needed to make up the course are created. Learn how to create a KB Article HERE
How to create a course
The following steps will guide you on how to create a course in Humanagement.
Login to your Humanagement Dashboard.
Click "Knowledge Base" from the navigation pane on the left side of your screen to reveal the knowledge base features.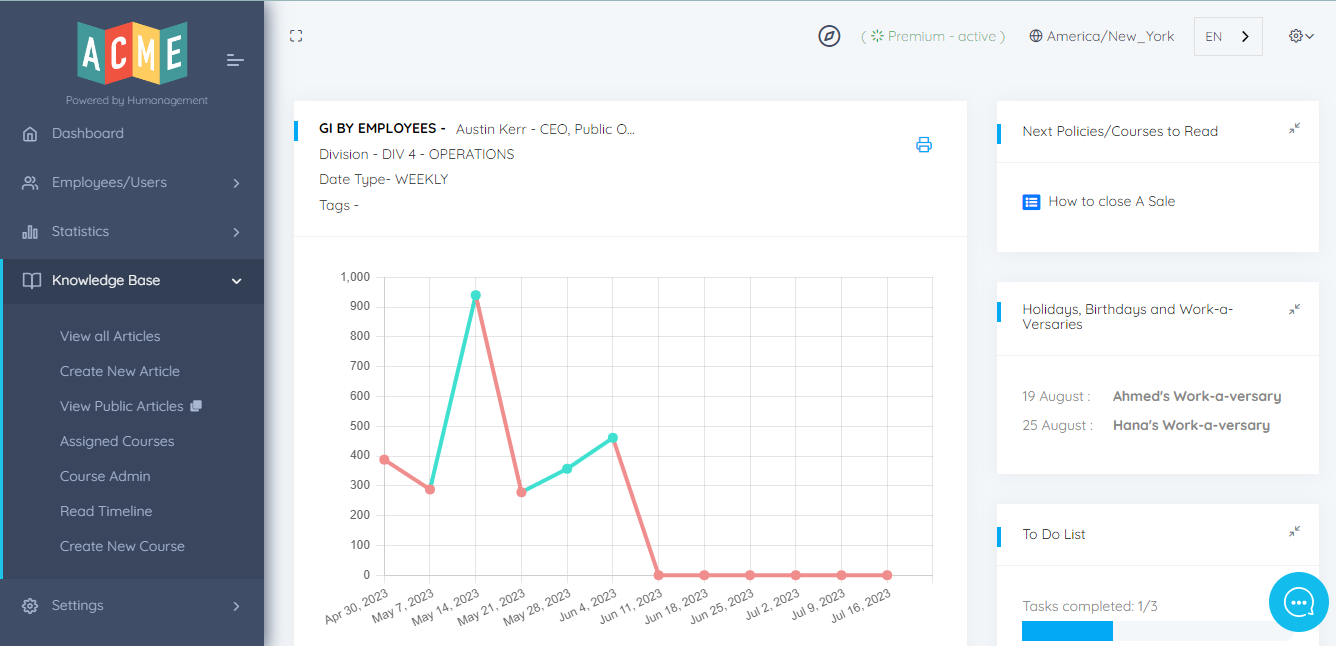 Click "Create New Course" from the drop-down menu to create course.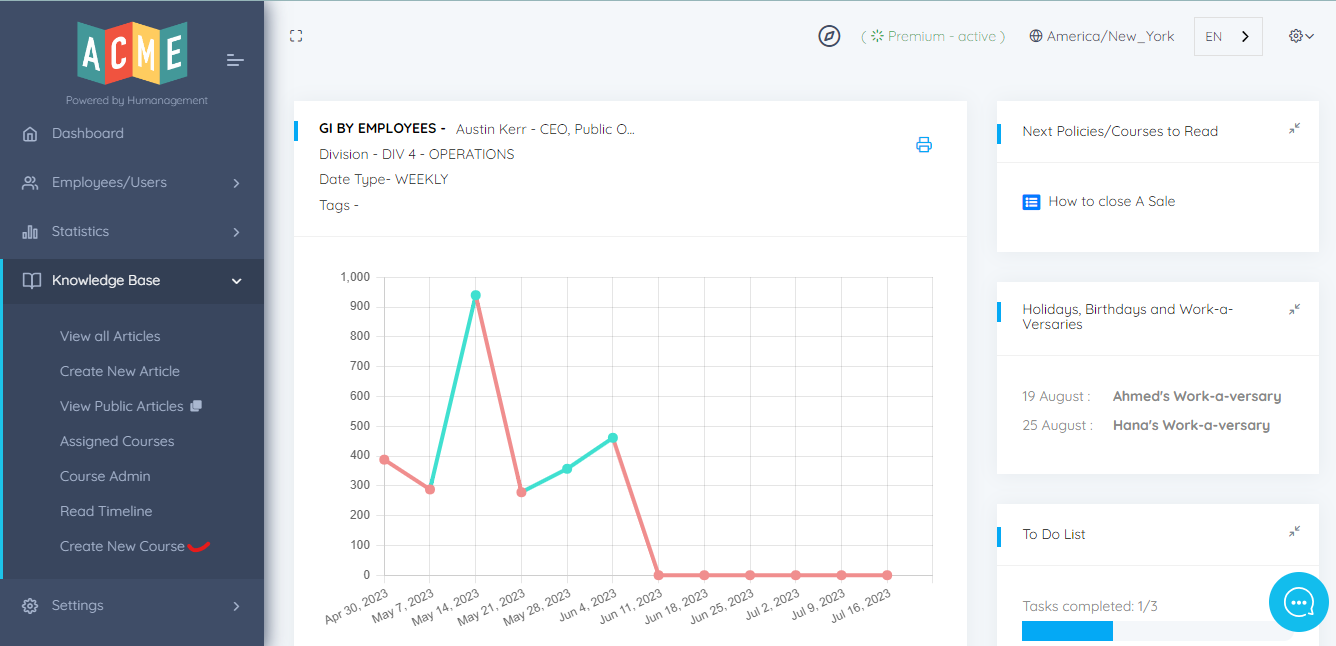 Give your course a name along with other necessary details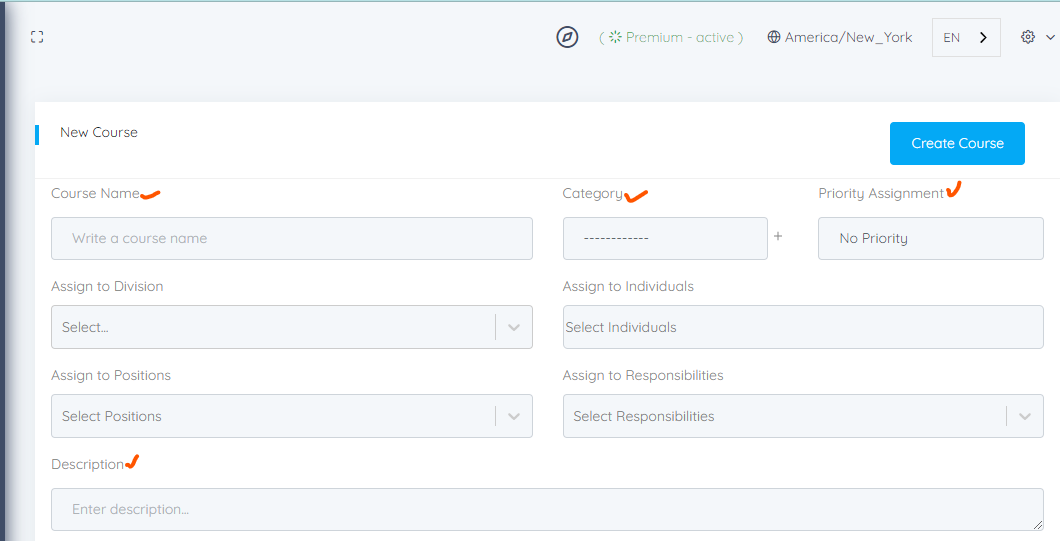 Drag and drop articles needed to make up the course from the pane of the right hand side.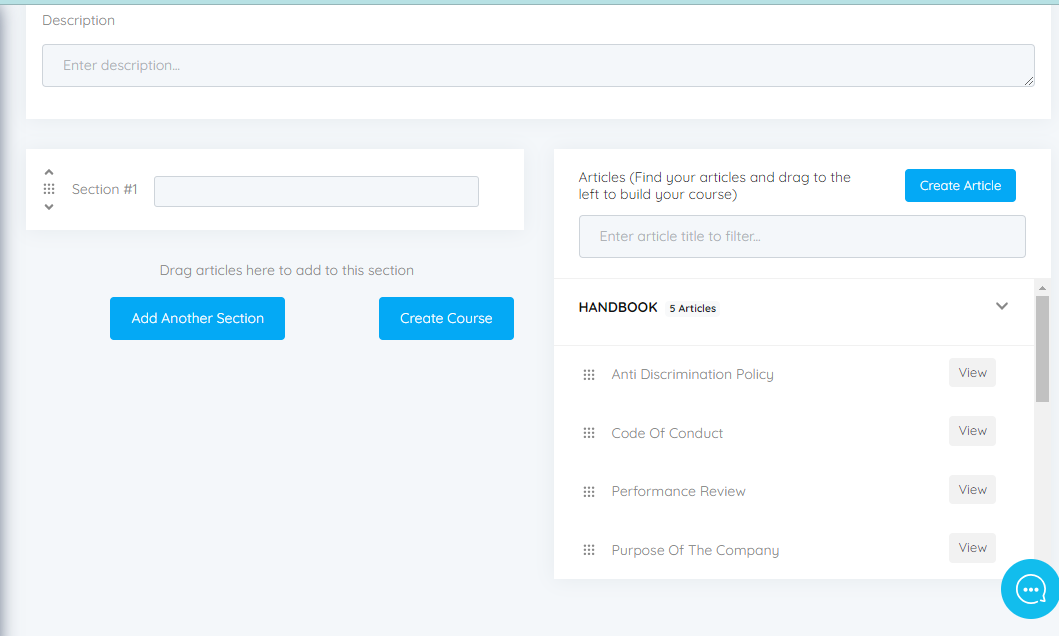 Click on "Create Course" when done.
Please Note:
You can add many articles and sections to your course
The search bar is used to search for article titles
If an article is missing from your course, quickly create one without leaving the course center by clicking "Create Article."
Explanations of Course Terms
Course Name: This is the name your course will be called.
Course Category: This is different from the KB Articles category. It is used to categorize the course based on what or who it's designed for, e.g., onboarding, customer service orientation, etc.
Priority Assignment: This gives your course priority control and defines when it's shown to users assigned. For example, a "group 1" course will be shown first, and until it is completed, the user will not be allowed to do another course.
Assign to Division: Just like articles, courses can be assigned to divisions.
Assign to Individuals: A course can be assigned to specific individuals within your company.
Assign to Position: You can also assign courses to positions. This automatically assigns the course to anyone in that position.
Assign to responsibilities: This allows you to assign a course to a pre-created set of responsibilities created for a user within your company.
Course Description: This allows you to describe what the course is about and what users should expect. You can also input course rules and any other specific course details, if applicable.
Section: This allows you divide your course into different sections, eg Section 1 Introduction, etc
Learn more about How to assign articles and Courses in the video below.